Stop and Smell The Roses: A Must for Government Contractors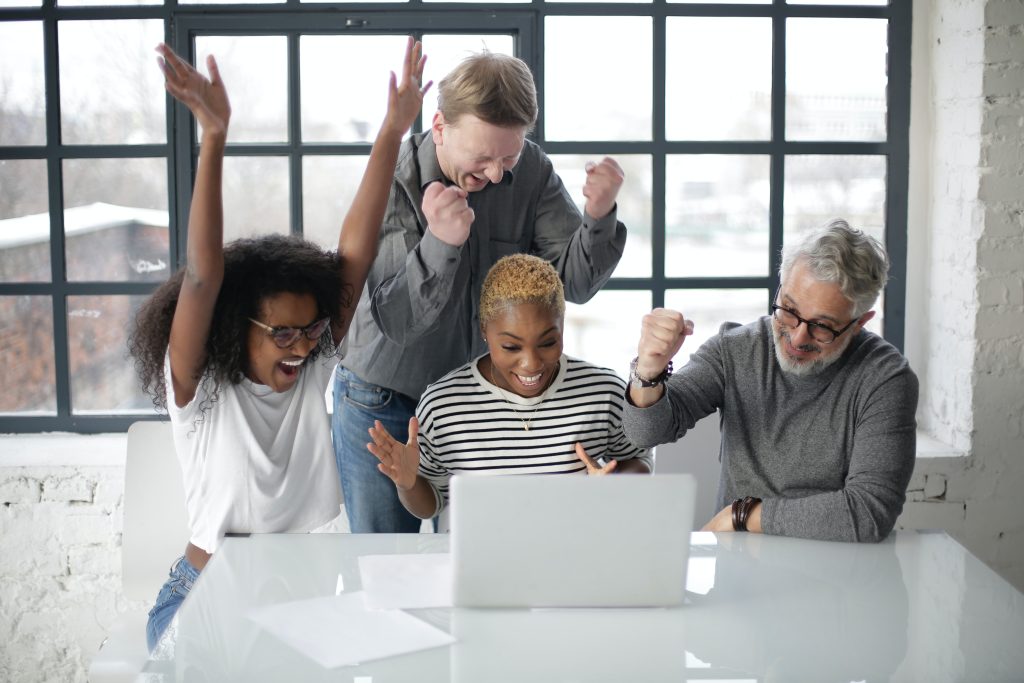 Photo by Andrea Piacquadio on Pexels
Celebrating success is an essential aspect of personal and professional growth. Whether it's achieving a goal, landing a new job, or completing a project, it's worth taking the time to acknowledge your accomplishments and recognize the effort you put into achieving them.
In the areas of government contracting, we often get laser-focused on winning bids, the contract startup period, and the ongoing fulfillment of services. However, taking time to celebrate success can provide several long-term benefits:
Boosts Motivation and Confidence: When we celebrate our accomplishments, we feel a sense of pride and satisfaction, which can encourage us to continue striving towards our goals. This can also help us take on new challenges and push ourselves further than we thought possible.
Builds Positive Momentum: When we acknowledge our achievements, we're more likely to feel optimistic about our future prospects. This positivity can help us attract new opportunities and build on our past successes, setting us up for even greater achievements in the future.
Reinforces Good Habits: When we achieve a goal or complete a project, we often do so by adopting healthy and productive habits, such as time management, perseverance, and discipline. By celebrating our success, we reinforce these habits and make it more likely that we'll continue to practice them.
Encourages Collaboration and Teamwork: In celebrating our accomplishments, we acknowledge the efforts of everyone who contributed to our success, including colleagues, mentors, and supporters. This recognition can help build stronger relationships and encourage teamwork and collaboration in future projects.
Providesa Sense of Closure: When we complete a project or achieve a goal, it's important to reflect on our journey and acknowledge our accomplishments. This can help us move on to new challenges and opportunities with a sense of closure and a feeling of accomplishment.
So how can we celebrate success? Here are a few inexpensive ideas yet are appreciated:
Catering Lunch: Providing a catered lunch for your employees is a great way to show your appreciation, boost morale, and encourage team building. Plus, it can save your employees time and money and give them a chance to try new foods or restaurants they may not have tried before. Or better yet, bring your grill to the office and have a cookout!
Half Day Off: Whether it's allowing them to leave early on a Friday or taking a half day on a weekday, this small gesture can boost morale and reduce burnout. Your employees will have a chance to spend a little more time with their families, relax, or pursue personal interests.
Company Swag: By offering high-quality items that your employees will use and enjoy, such as branded water bottles, bags, or tech accessories, you're showing that you care about their well-being. Giving them brand swag also allows them to promote your company.
Offsite Celebrations: Hosting an offsite event, such as a professional ball game or group activity, is a great way to build camaraderie and boost morale. Better yet….come up with two or three options and let them choose what they want to do. It offers a break from the day-to-day routine and allows your employees to connect with each other in a fun and engaging way. This type of celebration can help foster a positive company culture and a sense of community.
Celebrating success is an important aspect of personal and professional growth. By boosting motivation and confidence, building positive momentum, reinforcing good habits, encouraging collaboration and teamwork, and providing a sense of closure, celebrating success can help us achieve even greater success in the future.
With all of this said, it is also important not to rest on your laurels. The key is finding balance. With that in mind, next week we will discuss the steps you can take after you celebrate your wins to move forward toward new goals.
---
Back to Blog Home »
Comments


MYTH: Doing business with the government does not rely on relationships and does not require any marketing. All that is required finding opportunities on web sites and responding with quotes/proposals.
FACT: Having great relationships with government end users can provide more opportunities beyond RFQs/RFPs posted to government web sites. Some opportunities do not even require the government put it out for a competitive bid process so knowing someone could present more chances to do business. Furthermore, relationships also help build positive past performance history which is critical to winning future opportunities.