Starting Your Own Business in the New Year? Here's What to Consider.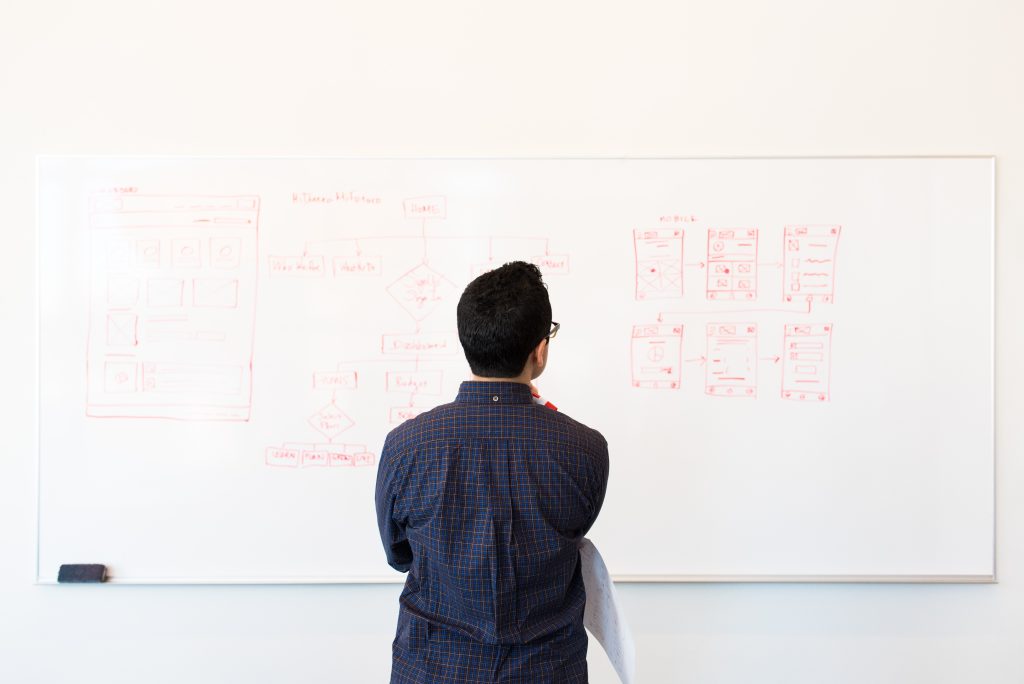 Photo by Christina Morillo: https://www.pexels.com/photo/man-wearing-blue-dress-shirt-facing-whiteboard-1181343/
It's the New Year—and that might have you thinking of big goals, like starting your own business. As someone who has made that leap, I've learned what to do – and what not to do. Here are a few things to consider.
Start by doing your homework and getting established, as follows:
Conduct market research.

I tell my government sales clients the first step to a successful strategy is to find out who buys what you sell. However, this first step is not only for government business. It is actually industry agnostic. Even McDonalds knows who buys what they sell. They just choose to call it their "demographic". For B2B, networking is a good strategy. You can also find out what other businesses sell and "reverse engineer" whether your product or service fits into that market. Some companies will perform this research for you as well. Neither of these strategies is better than the other; it just depends upon your industry and the resources you have for research.

Write a business plan.

Define your target customers, competitors, funding options, sales process, and revenue projections. Many endeavors–professional and personal– fail because of a lack of appropriate planning. Skipping this step could have dire consequences—especially if you want to secure funding from a bank or private investor.

Make it official

. Open a separate bank account for the business and use it for business only. Also, hire a competent attorney and CPA. If you have business partners, this step is absolutely necessary. They can help you decide…

How to structure the business (as an S-Corp, LLC, etc.),

How to draw up the operating agreement, including any buyout provisions (don't wait–do it now if you have partners), and

How to set up your accounting back office (on a cash or accrual basis, via Quickbooks or Freshbooks).
You may think, "I'll figure these things out as I go." Taking this approach could cause serious problems in the long run. If your partner wants out of the business, how are you going to structure the buyout? What happens at tax time after you've had a record year and don't have anything set up to correctly do them? In most cases, spending a little money now could help make things easier later.
Register with the government.

Get all the necessary state and federal tax IDs. Each state is different so be sure to follow the correct requirements. You also may be required to have licenses or permits. A

gain, each state is different, so do your research.
Contact your Small Business Administration office.

The SBA can help with everything mentioned above. You can find more information

here

.
Beyond the nuts and bolts, there are several more subjective matters to consider. Here is what I would do, based on my experience:
Start small and consider launching your business as a side hustle.

This may require you to work harder in the short run, but it will mitigate the stress that comes with making enough money to support yourself and the business.

If you want to do the same work you perform in your day job, see if your employer would be willing to hire you as an independent contractor.

Make sure you have a good relationship with your employer before asking. There are advantages AND disadvantages for you AND your employer if you decide to take this route. However, this is how I started my first business 20 years ago. I was lucky to have an employer who was willing to work with me and see its benefit. 

If you're in a two-income household, be sure you have 100% buy-in from your significant other on starting your own business.

If you do, you could scale back living expenses and live off their income temporarily. I have seen this done multiple times with positive results. I also have seen it backfire, but most times this was because their significant other did not have 100% buy-in
As far as what not to do, here are a few things I've witnessed among other would-be entrepreneurs:
Don't start a business if you're not a majority shareholder.

If you have a big idea and want to invest in it, don't let someone else control it. It may take longer to grow, but that's better than relinquishing control.

Don't start a business to replace a job loss.

It takes time to begin operating with enough cash to support your business, yourself, and—if applicable—your family. Get a new job first, and work on your business plan in tandem.

Don't start a business unless you have saved at least six months of living expenses.

This does not include borrowed money. Also, if you're married, be sure your spouse is earning an income (and not from the business you're launching, of course).

Don't take on debt that puts your long-term financial health in peril.

The last thing you want is a failing business that also costs you your home and other personal assets. According to an article by Entrepreneur.com, 20 percent of businesses fail in the first year, 30 percent in the second year, and 50 percent, after five years. That means even the hardest, smartest worker only has a fifty percent chance of success.
As you can see, starting a business should be done carefully, only after thinking through some hard truths. I encourage you to continue to pursue the dream of starting your own business, but to do so smartly. The steps outlined above are a good start, but please reach out to me on LinkedIn or at [email protected] if I can help further. Good luck!
---
Back to Blog Home »
Comments


MYTH: Doing business with the government does not rely on relationships and does not require any marketing. All that is required finding opportunities on web sites and responding with quotes/proposals.
FACT: Having great relationships with government end users can provide more opportunities beyond RFQs/RFPs posted to government web sites. Some opportunities do not even require the government put it out for a competitive bid process so knowing someone could present more chances to do business. Furthermore, relationships also help build positive past performance history which is critical to winning future opportunities.