How to Hire and Retain Rockstar Employees for your Government Contract: Standardizing the Interview Process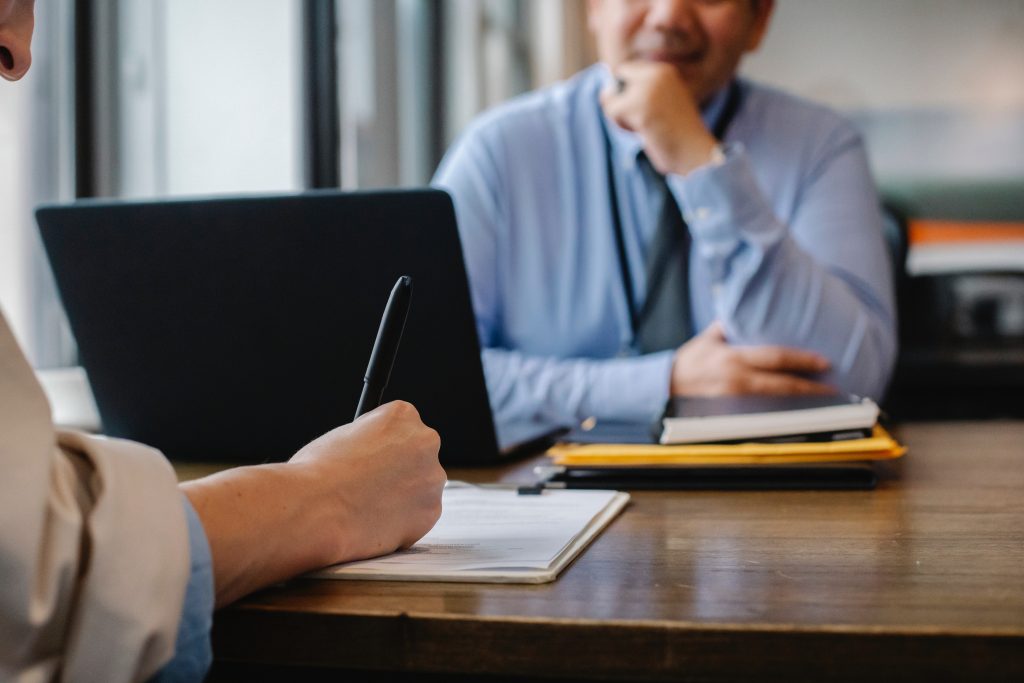 Photo by Sora Shimazaki: https://www.pexels.com/photo/woman-filling-job-application-form-in-office-with-boss-5668858/
Imagine the following scenario: you land your first few government contracts. They're for multiple years, and you need to provide "butts in seats" to the Veterans Administration, which just happens to be the federal agency that obligated the most to NAICS Code 561320–Temporary Help Services–in 2022. You have doubled in size over a year and want to grow more. However, there's a problem: you're spending all your time backfilling positions because of turnover. 
This isn't far removed from reality. Our company ran into the same issue in 2007. We were cruising along with one contract to staff roughly 25 personnel, and lo and behold, we won two more contracts, staffing around 15 folks for each. We doubled, and as soon as we backfilled one position, another person left. Why did they leave? Unfortunately, I can't say. We didn't ask them why they left because we were focused on filling the seat with the next warm butt that could pass a background check. 
Somehow we made it through that chaos, but the same happened in 2009. We doubled again. Three new contracts. 35 more people. Turnover was high. Morale was low. Our families never saw us anymore because we were always putting out fires. We had to do something. 
Instead of getting a better pair of shoes to run faster and a bigger hose to put out fires more quickly, we decided to start being proactive. We learned to stop this cycle, and we needed to focus on these four things:
Standardize the resume screening and interview process

Develop an onboarding process

Execute a retention process

Capture employee exit information
This article is the first in a series of four focused on the steps above. Let's start with the resume screening and interview process because that's where it all begins. 
As soon as we focused on employee recruitment, we discovered that each contract's program manager handled the process differently. Some asked questions. Some didn't. Some involved other employees in the process. Some didn't. Some interviewed multiple candidates. Some didn't. Some conducted one interview with each candidate and immediately made an offer. Others required multiple interviews before they made an offer. 
As a result, we didn't know what was going well or wasn't because none of the contracts followed the same process. That led to the decision to standardize the process as follows:
We began by looking for candidates who submitted a cover letter with their resume submission. Our experience indicated that those who just sent a resume often treated the process like a raffle drawing and were likelier to job hop. A red flag.

We then screened candidates with an assessment focused on a specific aspect of the job, such as customer service, project management, or finance. Honestly, we didn't even care about how they scored. We just looked for completion. Those who ignored the assessment were less likely to follow other directions or seemed less interested overall. Another red flag. 

We invited candidates who met the criteria outlined above to a first-round interview conducted virtually. Before they were interviewed, we asked them to sign our standards of behavior, which our senior leadership team had implemented with the help of all employees. These included 12 standards that all employees agreed to follow including examples like accountability, communication, customer service, respect and dignity, and teamwork. If they signed, we would continue with the interview. If they chose not to sign, we didn't.

We began using behavior-based questions in our interviews. These questions help pinpoint how a candidate handled a situation in the past or would handle a future situation. We would rate the answers to these questions on a scale of 1 (poor) to 5 (outstanding). A 3 was a good response, 4 was a great response, and a 5 was rarely given. While somewhat subjective, it was important to quantify the results. 

In addition, interviews were often conducted by someone who wouldn't work directly with the successful candidate. It was helpful to have the perspective of someone objective because program managers sometimes would refer candidates for the job.

From the remaining candidates, we would pick the top three and invite them to a second-round interview with the original interviewer and their would-be manager. These conversations were more subjective, focusing on the duties and responsibilities of the position. We would also begin to talk about compensation. Sometimes other employees would be invited to participate in this process, and candidates might be shown around the office. All the while, we would continue to observe behavior. One example: one candidate asked us to resend the employee application in Microsoft Word instead a PDF because they were unable to fill out or print our version. Their inability to solve problems on their own was another example of a red flag. 

Sometimes if two very capable candidates stood out and we couldn't decide, we would conduct a third interview. This interview would be even more free-flowing than the second. The conversation would often include the candidate's expectations on issues ranging from on-site vs. virtual work to salary and benefits, among others. 

Once we decided on a candidate, we informed

everyone

interviewing for the position. More than once, we ended up hiring someone who wasn't chosen the first time they interviewed. We felt this was critical to retaining candidates' interest in working for our company.
This was just the first step in strengthening our team, but it was critical to our long-term success. Next week, I'll discuss onboarding: what we did to ensure our new hires were informed, productive and felt welcome from day one. In the interim, if you have any questions about hiring and what we learned as we refined our process, please reach out to me on LinkedIn or at [email protected]. 
---
Back to Blog Home »
Comments


MYTH: Providing goods and services to the government means you have to wait forever to get paid.
FACT: Many government contracts are subject to the Prompt Payment Act which was enacted to ensure the federal government makes timely payments. Bills are to be paid within 30 days after receipt and acceptance of goods/services or after receipt of an invoice whichever is last. If a timely payment is not made, interest should be automatically paid.