Does Being A Great Team Leader Mean The Door Should ALWAYS Be Open?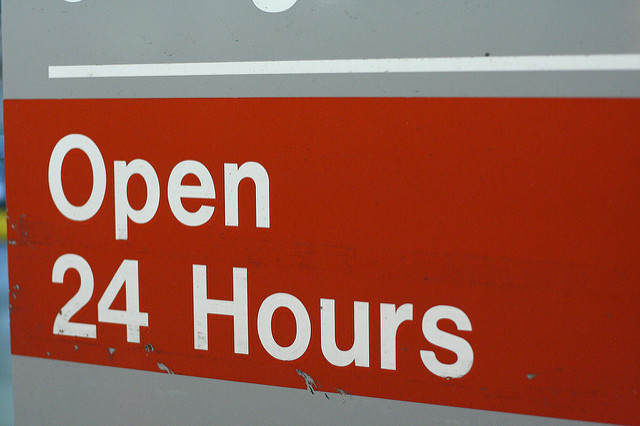 Photo by egvvnd on Flickr
I began reading a book called the "Ultimate Sales Machine" by Chet Holmes. I enjoyed reading the first chapter that discussed time management some time management techniques. One point the author made was to schedule every aspect of my day. This schedule included managing frequent pop-ins by other co-workers. He called them, "got a minute" meetings. You know, each time a subordinate, co-worker, or boss peeks their head in your cubicle or office door and says, "got a minute?".
Instead, he encouraged his readers to block 30 minutes each day for "open office hours" where people could hold their "got a minute" meetings. He also used that time to steer the topic to the formal team meeting held once every other week. Of course, emergencies did not apply to this rule. Once he implemented this practice, his co-workers still tried the whole "got a minute" routine. However, after a few days of Chet pointing them to the allotted time or tabling the discussion for the formal team meeting, the "got a minute" meeting requests slowly went away, and he regained most of his day to do the work he needed to do.
Some team leaders believe they should always keep their door open; that they must continuously be available when they are needed. I used to be in this mindset, but as I have gained experience in the last 20 years in the workforce, I also now believe there needs to be some structure to this. Here are a few reasons why:
In life, setting boundaries are important in personal relationships as well as business. Unless it is an emergency, saying to your spouse, child, friend, or co-worker, "Right now, I'm busy, but I can help you this afternoon." Here a boundary has been set. I have said that I can't help you now but I can at another time. However, it is up to me to set the boundary, not the other person. If I don't set those limits, the other person will not know where to stop. Next thing I know, others will be taking up all of my time because I haven't set the boundary of how much time I am willing to give.
"Got a minute" meetings, in my experience, do not give any time for more thought on the subject. The idea comes into my head which triggers me to march down to my boss' or co-worker's office to ask them if they have got a minute. I didn't take time to reflect, research, or map out my thought. Without being patient and diligent about the thought, I may have just wasted my time and my colleague's time.
Not being available immediately can force others to bring their thoughts and ideas to a specific time or meeting which may allow them to come up with an answer or solution on their own. I do not like to micro-manage people and love it when they find solutions using their thought process. When I did allow "got a minute" meetings, and my co-worker/direct report would present me with a problem, the first response I would give them is, "What do you think the solution is?"
Time is finite. We cannot create more time. We only have 24 hours in a day. Therefore, we must be diligent about the amount of time we give to others. Saying "yes" to everyone's time request means we're saying "no" to ourselves. We must be willing to say "no" at times to give a full "yes" to ourselves which will only help us say "yes" to others.
Soundoff: What are some ways you can regain some time back for yourself in 2019?
---
Back to Blog Home »
Comments


MYTH: Providing goods and services to the government means you have to wait forever to get paid.
FACT: Many government contracts are subject to the Prompt Payment Act which was enacted to ensure the federal government makes timely payments. Bills are to be paid within 30 days after receipt and acceptance of goods/services or after receipt of an invoice whichever is last. If a timely payment is not made, interest should be automatically paid.