Determination Beats Motivation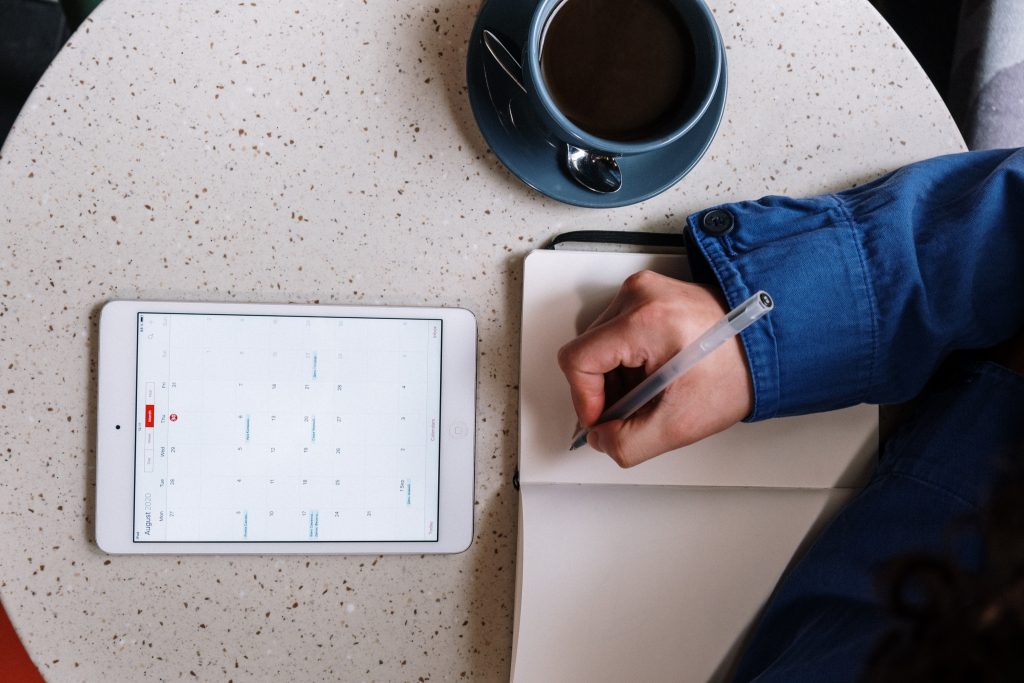 Photo by cottonbro: https://www.pexels.com/photo/person-holding-pen-and-checking-calendar-on-tablet-5053733/
"It never gets easier. What happens is you become someone that handles hard stuff better."
– Duke Women's Basketball Coach Kara Lawson 
If there were one thing I could tell my 20-year-old self, it would be this: things will never get easier, so you need to work harder at dealing with difficult things.

Some people have passion and drive that are strong enough to continually motivate them to work toward their goals. Most of us, however, face challenges in staying focused–and if we want to reach our goals, we need to guard against the times when we might want to quit. Instead of hoping we'll stay motivated, therefore, we need to focus on consistency and discipline. Here are a few specific things that instill those traits: 
Habits

: Build them one at a time, and start small. Dean Bokhari, a prominent writer and speaker about personal development, meaningful work, motivation, and mastery shares

this guide

to building habits that stick. 

Schedules

: My Google Calendar is full–but not just with meetings and appointments. My schedule includes time blocks to work on specific projects. Every task, including a lunch break, is scheduled. I can juggle them around if needed,  but my calendar tells me what I can accommodate on any given day, from when I start work until the end of the day. 

Setting Boundaries

: Sometimes we need to set boundaries with others–and sometimes, we need to set them with ourselves. How far you can go with the former may depend on your employer or boss, but you have complete control over the latter. A few examples:

Turn off email, social media and other unnecessary alerts on your phone and computer. 

Once you set your schedule, keep it. If you want to exercise during your lunch hour, don't schedule a meeting during that time unless you can exercise later in the day. If you have time blocked out in the morning to work on projects, don't fill that time with meetings unless they are absolutely critical.

Don't do tasks that do little more than give you the brief satisfaction of checking something off a list. Work on low-priority tasks after you've completed all the substantial tasks you've scheduled for that day. Don't do them during your peak productivity just to avoid starting on something meaningful. 

If you're still in a physical office, say no to "got a minute?" meetings. If someone picks their head through your door or cubicle and says "got a minute?," politely ask them to come back when you're free. It might be necessary to block half an hour for these requests, but don't let them hijack your focus throughout the day. 
Reaching your goals will always include completing tasks we love and ones we'd rather avoid. It's important to focus not on how a specific task makes you feel in the moment, but how you'll feel if you do the hard things in front of you. Determination beats motivation, every day.
By the way, this also applies to doing business with the Federal government. We go to a conference or read a book and we're all excited. Thirty or sixty days in, we've lost the motivation and the passion for doing the things we need to do to succeed and may just give up. Sometimes a coach is what is needed to help people push through these times. If you would like to learn more about how I coach my clients to success, feel free to contact me on LinkedIn or at [email protected], and we can set up a thirty-minute discussion where you can share where you are and I may be able to give you a few pointers.
---
Back to Blog Home »
Comments


MYTH: Companies cannot do business with the federal government if they aren't connected politically to the party in power.
FACT: The federal government's procurement process is designed to be one of the most objective, transparent processes in the world of business. Contracting officers are forbidden to award federal contracts based on politics. Furthermore, elected officials are forbidden to interfere with the agency's contracting process.