Bid-Winning Price Strategies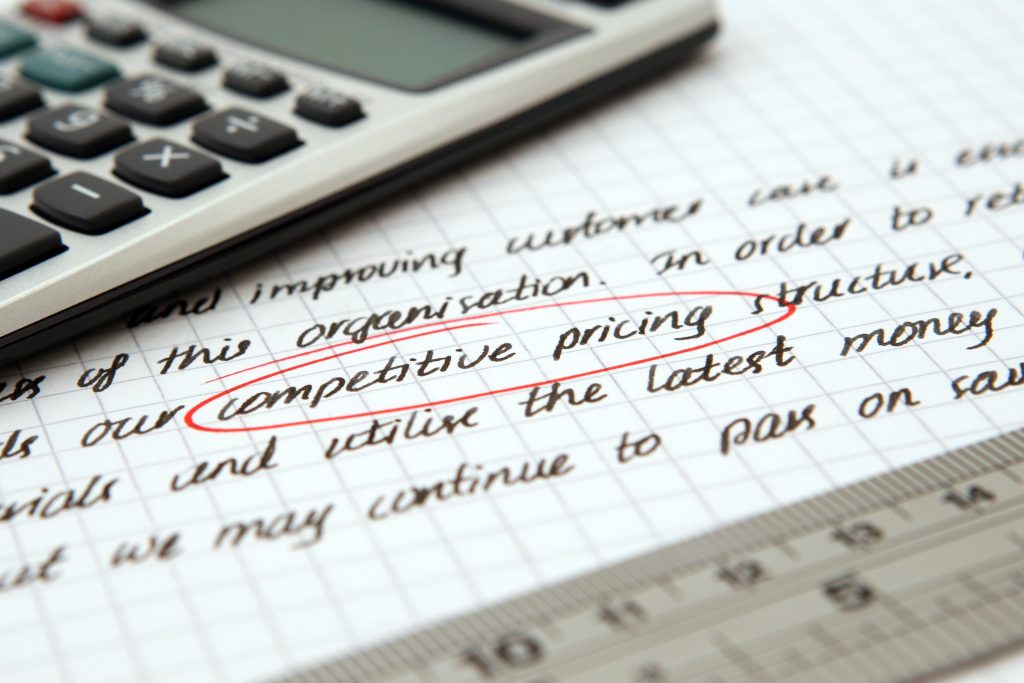 Photo by Pixabay: https://www.pexels.com/photo/advertising-business-calculator-commercial-262470/
There are three primary ways to position yourself to win bids with the federal government. Here's an overview of each.
1. Do Your Research. Before finalizing your bid, benchmark your offer against publicly-available pricing data. A few of these sites include:
GSAAdvantage

: This site allows you to compare your pricing against those who sell similar products. In my experience, the best strategy is to apply further discounting to your competitors' pricing.

GSA eLibrary

: When you can't find information on GSAAdvantage, GSA eLibrary is a good alternative–especially when you want to compare pricing for multiple products to that of a specific vendor.

USA Spending

: This site provides information about previous awards, including pricing, for the products you sell. Search for keywords like the product or brand name. However, you may only find minimal information, and you may need to look up the original RFQ to find out the quantity sold or whether the award included accessories or white-glove delivery.
2. Propose an Equal Product. Often, the government specifies a brand name when issuing a quote for a specific product. Sometimes, there are justifications for brand name only, but more often than not, the RFQ includes a "brand name or equal" clause. This allows for alternative brands to submit bids–and, in some cases, equal products can meet the salient characteristics of the RFQ. This provides an open door for you to submit your products for consideration. This may put you at a competitive advantage, especially if you can purchase the product from your manufacturer at a lower cost than the brand name manufacturer offers its distributors. Manufacturers trying to break into the government market may be more willing to make deals than those who have won multiple contracts. To improve your chances of success, do your research beforehand and build a relationship with the manufacturer instead of just calling them and asking for a quote. 
3. Negotiate With Your Manufacturer. You can build a preferred relationship with a manufacturer by offering exclusivity: selling only their product, that is, and not those of their competitors. Many distributors offer multiple manufacturers of the same item. Draw a line in the sand and tell the manufacturer you are committed to their brand and promoting it to your customers. Let them know where you need to be to win. Don't assume they won't negotiate. Do your research and let them know how much of the product the government buys in a typical year. Tell them you are actively looking for these opportunities not only when their brand name is specified but also when equal offers are accepted.  Having a competitive price and looking for equal product RFQs can position your company AND them to win a majority of opportunities. Offer to put their products on their GSA Schedule–and if you don't have one, research whether the government buys products you sell on a GSA Schedule. If they do, let them know you are submitting an offer for a GSA Schedule and will include their products. If you have the capital, offer better payment terms. Depending on the industry, manufacturers sometimes get beat up on terms. Offering to pay them faster may be attractive. 
While doing your homework on pricing can help you win more bids, the key is building relationships. This doesn't just include contracting officers, small business representatives, and end users. It also includes building the manufacturers you represent. Make sure the relationship is mutually beneficial and that your goals are aligned. Treat them like another customer and pay your bills on time. You might need them someday.
Want to learn more about pricing strategy or any other aspect of doing business with the federal government? Connect with me on LinkedIn or at [email protected]. I'll help you win more bids–just as I've done for dozens of clients throughout my career.
---
Back to Blog Home »
Comments


MYTH: Government agencies always award contracts based on price alone. Lowest price always wins.
FACT: While some contracts are awarded to the lowest bidder, government agencies also make awards based on the best value which includes trade-offs between the ability to perform the work, quality, past performance, and price.